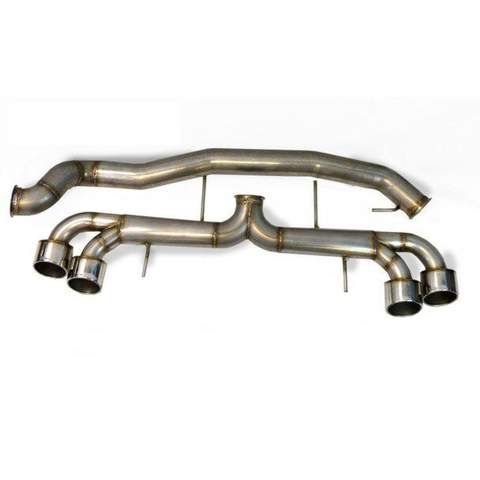 ETS 2008-2019 Nissan GTR Stainless Steel *RACE* Exhaust
---
The ETS GT-R 4.0" Stainless Steel Exhaust System is one of the largest and highest flowing exhaust systems on the market!  The key to making horsepower in a turbocharger vehicle is by eliminating back pressure and we do this by using a full 4.0" exhaust system without any compromises.  
One of the many key features of our exhaust system is a true 4.0" merge collector.  This is important because around the 1200whp range most exhaust systems will start to become restrictive. We've tested our system at over 1700whp without any performance losses over an open downpipe.
Features:
Full Stainless Steel
Direct bolt on to factory Y-Pipe.
True 4.0" merge collector into dual 4.0" muffler deletes
True 4.0" to 3.0" Merge collector from Muffler deletes to exhaust tips.
Stainless Steel Tips (not chrome / will not rust)
Largest GT-R exhaust system on the market.
Fully built in house.
Includes:
4.0" Mid-Pipe
4.0" Catback
All Clamps and Hardware Needed For Install
Note: Optional 4" Y-Pipe/Midpipe Available (select from the drop down)
Note: Shown WITH optional Y-Pipe
---
Share this Product