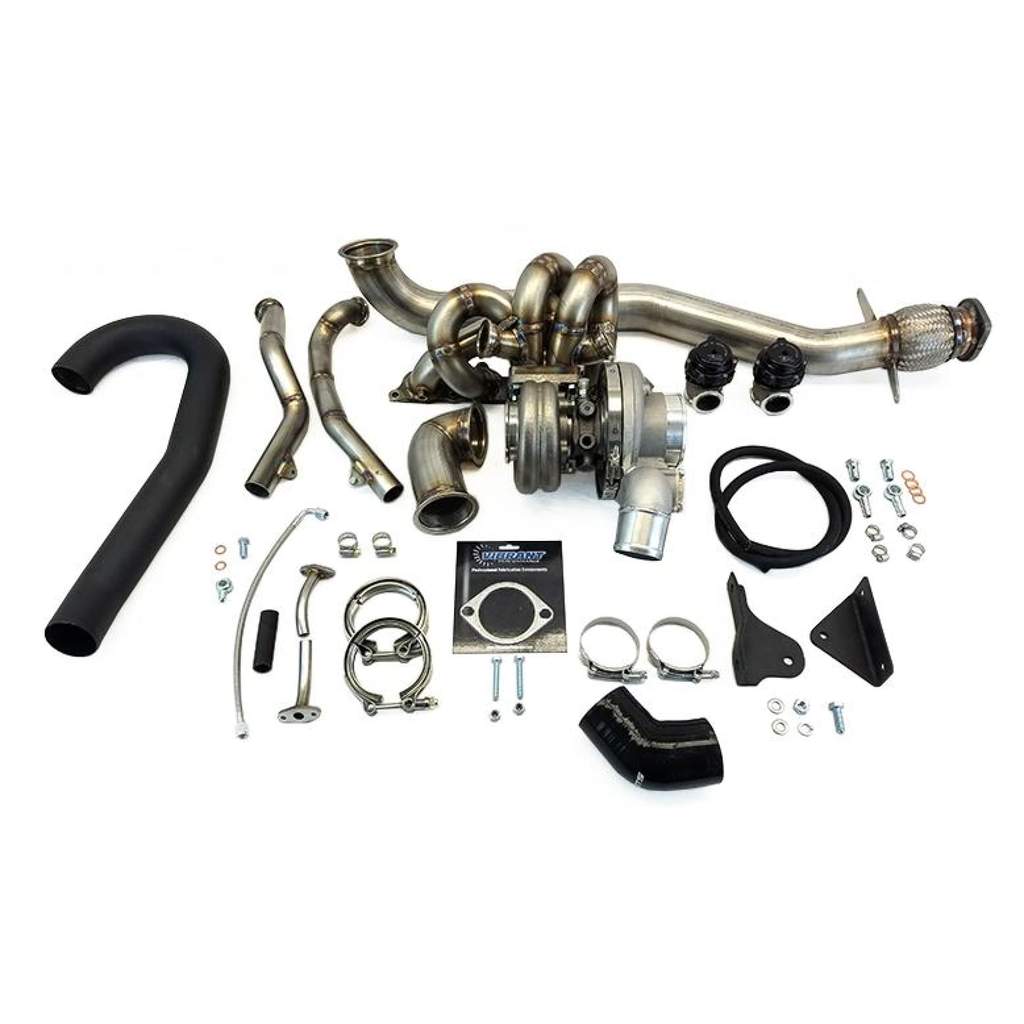 ETS 03-06 Mitsubishi EVO 8/9 Stock Placement Single Scroll Turbo Kit
---
Without further ado, we introduce the ETS T3 Turbo Kit! An incredible bargain in complete EVO turbo kits, this package offers a ridiculous amount of bang for your buck!

The tubular manifold is 100% built in house by the ETS team and a piece of art in design. This all new manifold utilizes a wastegate runner bracket which supports the twin 38 mm wastegates and wastegate dump tubes.

Also included is the only true 3" o2 housing on the market which makes a connection to the 3" downpipe. The all-new downpipe includes a flex section for the ultimate in longevity and will bolt directly to any stock or stock replacement cat or test pipe.

The S compressor cover version used for Precision S Cover, Garrett and FP HTA turbos is a full 2.5" from end to end and both LICP versions will bolt directly to any stock or stock replacement intercooler. An ETS 4-ply reinforced silicone coupler and 100% stainless steel T-bolt clamps eliminate concern of blown off intercooler piping at high boost.

The included stainless steel -4 braided oil feed line with AN fittings ensures that you never deal with a ruptured feed and the danger a broken oil line presents. The oil drain solution is flanged at either end with both hard pipes joined with heavy duty hosing for a worry-free installation. Coolant lines are also included when applicable.

All of our turbo kits come pre-assembled as pictured for the simplest possible install. Bolt the kit on, attach lines, LICP, downpipe and intake and you're ready to go!

As with all of our products, this kit carries a lifetime warranty that is happily honored in the case that there is ever any issue (90 days on manifold if wrapped or coated). We build for quality and almost never have a warranty issue, which is why we can offer such comprehensive coverage on your purchases at ETS.
All ETS Turbo kits include everything needed for a complete install (See the last picture)
Turbo Manifold (Single Scroll or Twin Scroll)
Turbocharger
Dual Tial MVS Wastegates
O2 Housing
Downpipe (Connects To Factory Cat or Test Pipe (2-bolt Flange))
Oil Lines
Water Lines (If needed)
Dump Tubes (Single or Two To One For Twin Scrolls)
Lower Intercooler Pipe
All Hardware and Silicone
Notes:
Twin Scroll Turbo Kits Require Evo 4,5,6 Radiator (Koyo, Mishimoto, etc.)
Engine bay fan is removed for installation - Optional slim fan available.
PLEASE NOTE: Orders with Precision turbos will get Precision wastegate(s). Orders with Xona or Garrett turbos will get TiAL Wastegate(s)
---
Share this Product