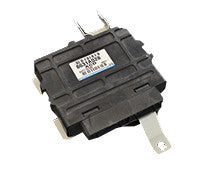 English Racing - Evo 8/9 ACD
---
After 2 years in development, we are pleased to offer ACD Mapping for the Evo 8/9. Tested on the Circuit, Auto-X, and Street - we have come up with the best available solution for cars still equipped with ACD.
How does it perform on the playground? 
Here's a review from a PNW Auto-X Instructor - Mr. Darrin Berndt
I had the opportunity to test the English Racing autocross tune ACD controller in my 2006 EVO IX today. After several laps at the autocross track I can say it was absolutely EXCEPTIONAL. The controller tuned out all under steer (push) and made car react to inputs better than any evo i have ever been in. I could plant the front end on a cone and get the back end to rotate around unbelievably fast. If I was told i could only have one upgrade to a evo that i was to race, this is the very first thing i would put on my list. It made a bigger difference than my ball bearing turbo, or even my Ohlins . On the lowest setting I picked up 2 seconds (50ish second lap) the next higher setting i picked up another 1 second. The highest setting was the cherry on top. I picked up .4 sec and continued to improve .2 to .6 each lap as i got dialed into it. I had Nationals and Regional winning champions dive my car as well to give me their feedback. They were astounded that it was even an evo, they couldn't believe how much better it was than their nationals winning EVO. Thank you Aaron O'Neal for giving me the chance to try this thing out. I can tell you that as Bremerton Sports Car Club autocross instructor, i am going to recommend this controller to every evo that i come across.

I did re-stack my rear diff and i would say that this re-flash affected rotation 500% more than the re-stack did. I welcome people to come to any BSCC autocross events and i will give the a ride and let them feel it.
A detailed review from an Auto-X racer - Mr. Dallas J
Got a chance to test out Aaron's ACD flash to compare with the old ACD Tuning flash I have. I ran it Saturday with some worn 285 R1-s tires and Sunday on Dunlop ZII's. Skip to the end for a quick conclusion. 

My experience on the old flash has always been that the only way to get it to work was to set up the car as loose a possible and use the ACD tune's progressively tighter settings to get the car stabilized. Overall though, I wasn't fully convinced with that setup and didn't really feed like I ever got faster with it. I tried, honestly, it just hasn't worked out quite right for me. I never got extra rotation with it either, actually it was quite the opposite for me and caused more of a mid corner push. 

On to my experience with Aarons tune. I have 3 settings, Stock, medium tune, heavy tune. Saturday I ran my worn 285 BFG R1-s and Sunday ran 255 Dunlop ZII's with my wife as my co-driver both days. I'm also playing with some bar setups and had a bit too much rear bar so it explains some of my huge rotation. 

Saturday Run 1 - Ran the stock tune which I haven't run in quite a while as the ACD tuning medium setting seemed to be my favorite of what I had to get more lockup but mid-corner always suffered. The completely stock setting really doesn't like to put power down pulling out of corners with a lot of either front or rear wheel spin. Its just a bit skatey if that makes sense. I would say it feels like not a lot is happening with the diff. 

Run 2 - Changed to the medium tune. First thought, Whoa, that's different. Throttling out of corners the lockup seems to hold much harder and the rotation was far more predictable. Before it was easy to control and catch when I needed to, but this time I was like I didn't have to. Hard to explain really, it just loved some heavy throttle in a way the stock tuned didn't. 

Mid corner, I went from a somewhat neutral to slight understeer to steady state rotation. "WTF, how is this happening" (My reaction mid course). I really didn't expect the car to actually start sliding sideway mid corner. But it wasn't in a bad way. I was turning into a decreasing radius turn on a large sweeper and with the rear just floating around "For" me to get around the pinch cone. As the car floated around and I needed to accelerate I just counter steered a bit and rolled on throttle. The car straightened out and just shot forward with ease. It was awesome!

Run 3 - Tried out the heavy setting. Ok, now my rear bar is way to stiff cause combined with this I could not keep the back end behind me. Mid corner, slalom, corner exit, everywhere! Any question on if this tune is helping the car rotate was settled for me right away. You want want a hair raising autoX run, Big bars plus this tune, DONE. Im gonna try this again with a softer rear bar, but I almost want to run the car like it was again because it was so much chaotic fun. 

Following trying the three settings I ran the middle tune the final 2 runs. The car in general wasn't working real well with the excessively stiff rear bar, front rub caused by reduced front caster (AST to Ohlin change lost caster in the tophats), and 100+ run BFG R1s tires. But the change with the diff was immediately noticeable in improving things. The car absolutely did not like stock but it was completely drivable in the middle setting.

Sunday had a big prediction of rain so I removed a rear swaybar link (so no rear bar at all), softened the front bar to full soft, and tossed on the ZII's in preparation for rain. 

Run 1 - Went back to stock setting. Ground was pretty damp at this point so right at that greasy stage. Pulling out of corners we really didn't know if the front was going to step spin the wheels or the rear. Really felt like the diff just wasn't doing much of anything. Any where on course you'd think we weren't in an AWD car at all

Run 2 - Went back to out favorite medium setting and surprisingly the car worked pretty dang good. The rain stopped and we had drying conditions and while mid corner I didn't have rotation without the rear bar, it also didn't push either. Throttle out of corner was where this shined. It just kicked out a small amount, held, and went. So much smoother and predictable than how the stock map puts down power. 

Run 3 & 4 - Well, I'm kicking myself in this moment of reflection for not trying more than the medium setting. It was working fine and the wife was happy with how it handled that I decided to run it as a consistent car and what we could get out of it. I think I had top time of the morning since the sun poked out and dried things up, not bad for street tires and no rear swaybar. 

Conclusion: I really need another day testing this when I swap back to my old bar setup but I can say for sure this is massively promising for me. I think I might have to get a light - med - heavy flash combo cause stock is completely useless at this point. I know a couple of the things Aaron does on the tune and with that, I can understand why stock turns to crap in certain situations. 
Note ***
This does require your current ACD ECU or a spare if you have one to be sent in and re-flashed. It is ships out the same day we recieve it. All 3 modes are re-flashed offering "tune-able" improvement.
 

Removal is simple. Remove the passenger door sill and kick panel, then remove the glove box. The glove box is removed only to give you some visual of what you are working with.




Located on the passenger A-pillar about even with the heater assembly is the ACD ECU. It has 2 plugs and one 10mm bolt holding it in. Please note that the bolt is also used to secure an ECU ground and must be hooked back up when the ACD ECU is reinstalled.


Package and send via your preferred mail method
English Racing ACD tune All ratings are based on the "feel" of Tarmac in its stock setting and the speed that it will attempt to lock. Tarmac +6, High grip surface with throttle controlled oversteer on exit Gravel +3, Lower grip or wet surface with neutral to slight oversteer on exit Snow +1, Better than stock Tarmac and suitable for street use ACD function extended vs vehicle speed in comparison to stock. It will be listed on the back of the ACD ECU.
---
Share this Product
---
More from this collection